Nationals 2016-  great to be on the podium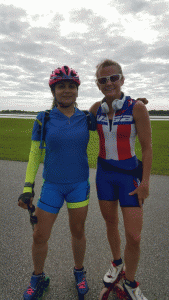 Here with the famous Debbie Rice who has many world titles
 2017 USARS National Champion 2nd
2016 USARS National Champion 2nd
2014 USARS Nationals Champion 3rd
2013 USARS Regional Champion 1st
2012 USARS Regional Champion 1st

2007 Disney World  Inline Marathon- 1st
2003 Disney World  Inline Marathon 1st 
2001 USARS Nationals-4th
2001 Tampa Classic Marathon 1st
2001 USARS Regionals- 2nd

2001 Duluth Inline Marathon 1st

2000 Tampa Classic Marathon 1st

2000 USARS Regionals 1st

1999 USARS Regionals- 2nd
1998 Palm Beach Invitational 10k Road -1st

1995 New York City marathon 2nd

1994 Athens to Atlanta Road Skating Marathon -2

n

d 
 

Certified Speed Skating Coac

h
Inline Skate Instructor- ICP Certification
C.P.R -Red Cross Association Certification
B.S.- Business Administration Nova  University, Fl.
US Air force~US Army
Years later I joined a local skating group and was hooked to inline Speed Skating.  I developed leg muscles which helped me win races and maintain a healthy weight.  In 2001 I left the indoor competitive skating circuit but still skated the outdoor fun events. I pursued teaching individual clients that are determined to make a life change and make skating one of  their habits. ( I again began indoor competition from 2011-2016)

I love that I make a positive change in people's lives.  It is so much fun for me to see a person's face when they learn to skate!  They have acquired a sport they can do forever; alone or with others.

my primary reasons to skate is for fun & EASYFitness!
Over 40 feeling out of shape?  Skate and be younger!
I am not kidding. I have people over

60

learning to skate,
and they get so much stamina from it.
rollerblade instructor



call 941-822-3104
llerblade teacher
It is imperative to wear a helmet, wrist, elbow and knee protection.

  After skaters get proficient at skating, they no longer use elbow & knee guards for better aerodynamics. They wear a helmet and wrist guards.  All my years skating I have only seen one person get hurt where they broke a collarbone. That person hit a tree branch and did not have wrist guards.  Wrist guards help a lot by preventing one from breaking wrists and making one able to skid instead of slamming down on hands and arms, bones.

Speed skaters do not have a break on their skates. I recommend that once you learn to skate well, that the break be removed for better maneuverability.  In the city, where there is a lot of stop and go activity, you may want a break to not wear out your wheels.

It's also very important to carry water.  Dehydration is not fun and even when its cloudy, one will sweat without feeling it, as water evaporates as you skate.
WEAR SUNBLOCK OR LONG SLEEVES.  I DO!!!!
   Call me today!
inline skate instructor: Pinellas  -Sarasota – Hillsborough County areas
Skating will help you:
LOSE  INCHE

S

BECOME L

EA

NER


G

ET  TON

ED with

Muscles that make you look healthy
IMPROVE YOUR OVERALL HEALTH
BE COMPLETELY REVITALIZED
HAVE FUN ~BE HAPPY!

ACT FEEL YOUNGER

I am not kidding!